Please forgive me for not posting much recently. The only way I can describe bringing home the dialysis machine is like bringing home a new baby. We were at the hospital for 3 days of peritoneal dialysis classes, it wasn't exactly like a birth, but it was long and tiring. We took a nap every day after the classes. Everyday we came home with supplies. Lots of them. You can see my previous post for the supplies we brought home last Tuesday. Here are the supplies from Wednesday...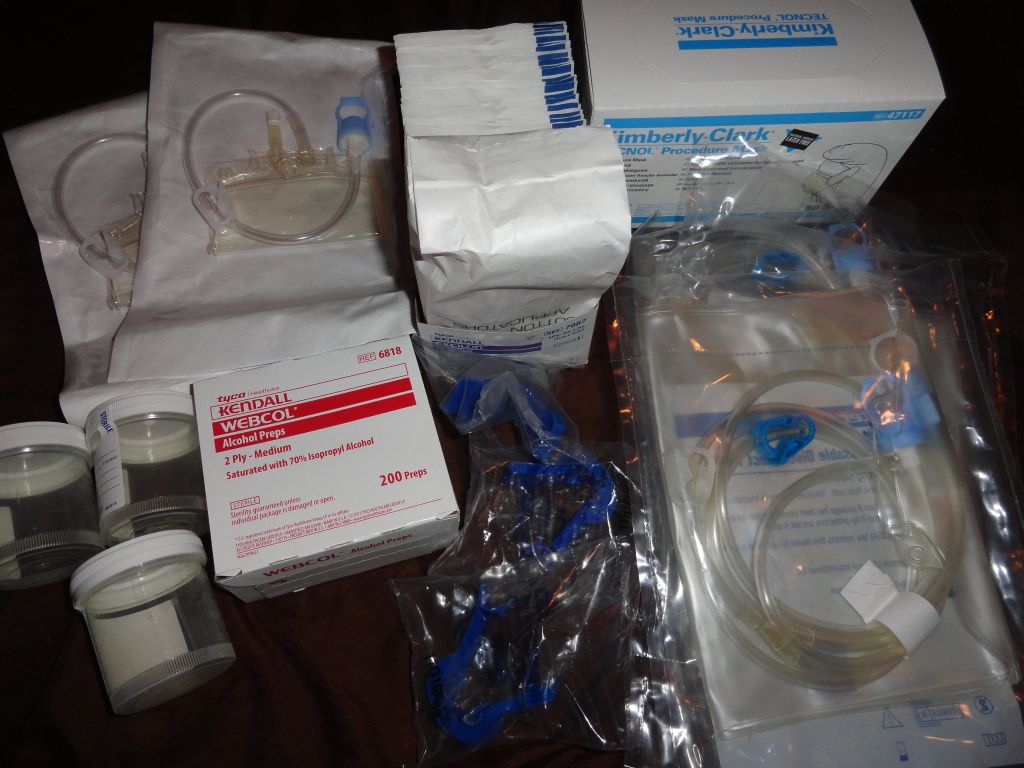 And on Thursday we brought home the machine and all the instruction books.
Just like having a new baby the house is full of extra "stuff", there are visitors, and we are tired. The first full night of dialysis was Thursday. Hubby is attached to the machine for 10 hours. We haven't slept for more than 30 minutes at a time since before the machine came home.... not unlike having a new baby. That first night I can't even remember how many times the machine alarmed. The alarm we seem to be getting every single night is "low drain". Hubby talked to the dialysis nurse yesterday and we are trying something and hoping it works out tonight.
Hubby is losing sleep just waiting for the alarm to sound, I'm losing sleep because hubby is awake and the alarm is sounding. I'm sure we will adjust, but for now we are on auto-pilot, just trying to get through each day.
These are just my very humble suggestions. If you are doing peritoneal dialysis or assisting, plan to stay home for at least the first week. It requires a lot of adjusting and it will help if you don't have to run all over town. Figure out what to do with all the empty boxes and the extra trash. At first I thought having these sturdy boxes would be great, but we are emptying them faster than I know what to do with them. Each box only holds 2 bags and hubby uses 2 bags a night, so every 2 days I have 2 empty boxes. That means in 30 days, I will have 30 empty boxes! If you don't put your limit on the curb each week than you will be ok, but I'm guessing we produce an extra can a week with all the trash dialysis is creating. And yes, it is legal and acceptable to put what we are putting into the trash. This concerned me too, but that is what the trash company and the hospital say.
*Disclaimer - all the information above is for information purposes only. I am not a nurse, doctor, or any type of medical professional. I'm a wife taking one day at a time while taking care of a husband with PKD.